Series: His|Story Concludes
Filtered by:
Series: His|Story Concludes
Series Details
His|Story Concludes
A Study in the book of Revelation
April 11, 2021 - November 11, 2021
My hope as we go through the book of Revelation is that we change the way we think of it. The big idea of the book of Revelation is that it is the Revelation of Jesus. It's all about Him. Revelation 1:1 says "The Revelation of Jesus Christ, which God gave Him to show His servants..." As people read Revelation, the cast of characters that surrounds Jesus are so peculiar that it's easy to get distracted. But Revelation, the whole book is about Jesus. Revelation "reveals" Jesus as Creator God, the Almighty, the beginning & the end. As the Ruler over all kings, kingdoms, cultures, nations, and people in all times - then, now and at the end of human history. The book of Revelation is a personal letter from Jesus to His church, us. And it's an encouraging letter (not fearful). It says during our darkest times, in the most difficult of situations, when nothing seems to make sense, when evil seems to be winning - God is right there with us, ruling and reigning.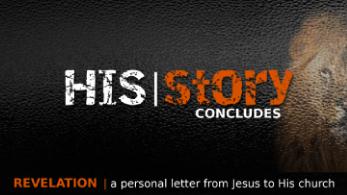 Sermons in
His|Story Concludes